How To Choose A Dock Leveler
Mechanical vs Hydraulic Dock Levelers
Choosing the right loading dock levelers for your business and operations can seem like a daunting task for many. There are many factors to consider when it comes to finding a dock leveler that maximizes your company's productivity as well as provides ease of operation for your business. Our company alone offers four various types of levelers to meet any person or business needs, and we recognize that it can be difficult to know which is the right fit for your company, so we wanted to provide you with a few points to consider when you are searching to choose the right dock leveler to add into your operations.
The difference between mechanical and hydraulic is fairly simple, although depending on your business the differences can make or break your operation.
A mechanical dock leveler does not require electricity. The mechanism functions by means of a pully and chain contraption. It's a simple and has a more affordable upfront cost. Mechanical dock levelers do seem to be harder on your employees because they require them to bend and strain more in order to have the dock leveler function. To lower this type of dock leveler, you simply need to walk out on it, and the weight of yourself will lower it down to function.
To See Our Mechanical Dock Leveler Options – Click Here!
A Hydraulic dock leveler is a longer lasting dock leveler that does not require as much effort on the side of the operator. These dock levelers feature controls that allow you to raise and lower the dock without any physical effort. The hydraulic dock leveler is going to be more costly up front, but will likely last longer.
To See Our Hydraulic Dock Leveler Options – Click Here!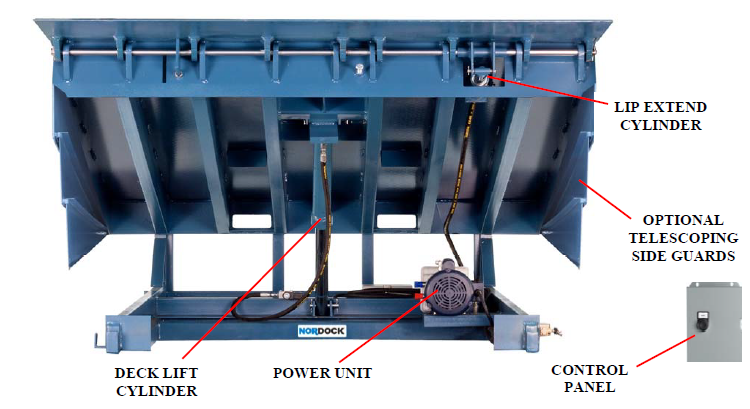 What is best for you and your company?
When you are beginning the process of finding a dock leveler for your operation it's important to recognize your needs. What are you searching for in a leveler? What functionality do you need your dock leveler to have? It's crucial to know what you want out of your leveler and what needs you are trying to meet with it in order to make a good decision for which leveler will be the best addition for your ventures. Some things that might help you discover your needs are things like signaling, various control features, safety elements, and capacity ability. Certain industries have various environments as well as requirements for their work flow to function, recognizing your industries needs will be the first step in narrowing down what you are looking for in a dock leveler.
Once you have narrowed down each of the things that you need from your dock leveler, you'll be able to think about other things such as maintenance costs. This is another important thing to consider when trying to find the right dock leveler for your business. Maintenance costs as well as lifespan vary between mechanical and hydraulic docks. A hydraulic dock leveler likely will cost more up front, but it's been found that hydraulic dock levelers generally last longer than mechanical levelers which means that you more than likely will spend more maintaining and keeping up with your mechanical leveler.
The last thing we encourage people to consider is going to be what environment is your leveler going to be a part of? Think about your loading dock environment that you are trying to put a dock leveler in. Is your business heavily refrigerated? How much space do you have? Do your products vary – do you need something that is widely versatile? Think about the environment that you are in, not only with your facility, but also with your product. This might help you make a more pointed decision of which dock leveler is going to best serve you as well as provide you with the best functionality and maximize your productivity.
If you have questions about which dock levelers are right for you, contact us today! Our team has years of service with dock levelers and can help you decide which leveler is right for your company.