Self Contained Compactors For Sale
Speed-Tech Equipment sells & services a wide range of many makes and models of self contained compactors. These are great to use as a loading dock trash compactor. Commonly known as recycling, trash, or garbage compactors.  Speed-Tech is a distributor and dealer for several manufacturers and can supply you with new or refurbished self contained compactors. It doesn't matter what type of compactor you are looking for, we can help! 
New & Refurbished Self Contained Compactors We Offer
SP Industries Self-Contained compactors are available in many sizes and options. The SC models are a single straight push cylinder type that can handle about 1 cubic yard per stroke and provide 10 inches of penetration for difficult waste items that have more retention. The SCS system utilize two crossed cylinders that provide more force and allow for larger charge chamber. The SCS self-contained compactors can handle two cubic yards of waste per stroke with pressures up to 49,200 pounds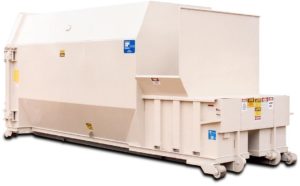 SP Industries Self-Contained Compactors are specifically designed for easy loading with a loading height of 42 1/2 inches. This compactor is great for a loading dock trash compactor which allows you the option of adding a deck for use in a loading dock bay or adding a hopper and heaving a workable loading height for your workers. With an optional rear deck, this compactor can be pushed up to your existing dock and accessed by walking on the rear deck for easy loading. Add safety hand and toe rails and you have no steps, no large gaps to jump, and ready to work platform that is accessed from your existing loading dock. Get more of what you need from your compactor with quality products from SP Industries.
Marathon Dual Recycling Compactor – DRC
The DRCII is one dual purpose compactor, occupying one space, with two separate compartments enabling the user to compact a wide range of waste and recyclables all at one time.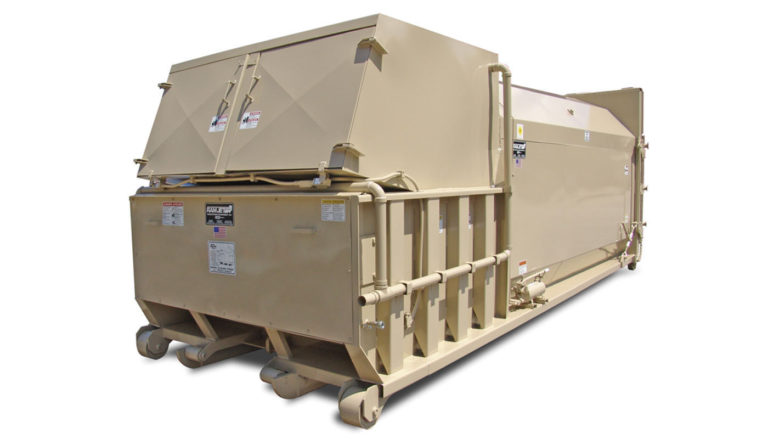 Interested In a Self-Contained Compactor near Grand Rapids, MI?
Recycling Management Services 101 Recycling Management Services play a pivotal role in the sustainable and responsible handling of waste, serving
Read More »
Cardboard Baler Frequently Asked Questions In an age where sustainability and responsible waste management are at the forefront of global
Read More »
Roll up Garage Doors in Grand Rapids MI: Speed-Tech Equipment has you covered! Roll Up to Convenience: Elevate Your Garage
Read More »