Baler Maintenance Tips to Keep Your Machine Running Top Notch
Today, balers are one of the most frequently used machines for commercial recycling. These machines are found everywhere from retail businesses to industrial waste management facilities.  When compacting various forms of waste, the baler allows for much easier recycling efforts which helps simplify the processing and transportation of a company's waste.
Of course, like all industrial equipment, balers are prone to wear and tear along the way, especially if you are not operating them properly. In fact, there are various bad equipment habits that may cause your baler to need repairs more often than normal. Let's talk about some baler maintenance tips that can help prolong the life and efficiency of your baler.
Regularly Clean the Baler
Ensure that when operating your baler is has been cleaned. A lot of debris, dust, and grime accumulate in the baler that can cause damage to the internal parts if left uncleaned. It is also important to keep the area around the baler free of waste to help prevent rodents and other buildup around the equipment that could cause further damage.
Dirt around the control console can lead to some issues, a build-up of dust can cause overheating of the motors and cooler, which can be an expensive repair or replace. With that being said, take time to clean away any dust each day while conducting deeper cleans weekly, monthly, and quarterly.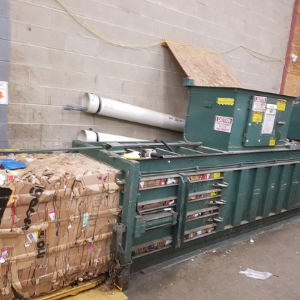 Keep Up on Preventative Maintenance
Another baler maintenance tip is to routinely check for preventative maintenance needs. Instead of waiting for parts to break down. Take the time to do minor maintenance over the weeks and months which will save you thousands of dollars in unnecessary repairs or replacements.
We recommend completing weekly, monthly, and yearly maintenance checks and repairs on your baler. Weekly maintenance should be top of mind in this regard, some examples of this are cleaning parts, avoiding dust build-ups, inspecting the oil and testing condition of the power unit.
Baler operators should always be checking oil levels when cleaning the equipment. Oil is critical for a stable and safe operation making it extremely important to check this regularly to ensure no issues.
Changing your machinery's oil only needs to be done every few years, although certain conditions, such as dust build-up, often mean the oil needs to be changed more frequently. Also, make sure to note the oil temperature as this plays an important role in keeping your baler efficient and not slow.
Keep Up with Hydraulic Maintenance
The hydraulics are the driving force behind your baler, yet they tend to be overlooked and break down sooner than they should. Issues with baler hydraulics are a common issue due to the pressure and very high temperature they operate under, so make sure to check these regularly to ensure optimal performance.
For example, the baler's hydraulic fluid levels should always be in line with the manufacturer's recommendations, while also inspecting the oil around the hydraulics is also an important task. Lastly, having a lot of dust build-up may cause your machine to overheat sooner than necessary, so make sure to check around the hydraulics and clean when needed.
Speed-Tech Equipment is a provider of recycling equipment, based in Hudsonville, MI. We sell and service a variety of waste equipment including balers, compactors, loading docks, doors and seals, and MORE!  We may be located in Hudsonville, Michigan but can ship equipment nationwide!
Contact Us Today With Any Questions! We Are Happy To Help!